Share

+
Teaching Easter in Primary School & Why it Matters
---
While Easter is often celebrated with egg hunts and chocolate bunnies, it's a solemn religious holiday. So how do you approach teaching Easter with primary school aged children?
---
---
Easter is a hugely important and serious holy day to millions of people on the planet so it's important that in teaching Easter you address the origin and traditions of the festival. It's also a great opportunity for teaching diversity and tolerance.
---
Why Teaching Easter is relevant in 21st-century multicultural Britain?
It is important to explain that lots of cultures and faiths have different traditions. So you can start with the fact that at this time of the year, some Christians celebrate Easter and that different countries have different ways of celebrating this festival. And that because we live in a multicultural society, it is important to value and acknowledge other people's traditions and beliefs, just as we appreciate them acknowledging ours.
So how about creating an Easter assembly where the class investigates what Easter means in a different country and then share what they have learned?
---
Primary Aged Children and Easter Themes
Our tip is to relate Easter to spring, where things begin to grow again (leaves, flowers etc) and when new life is beginning for many animals (new born lambs, bunnies, chicks etc). All children, but primary aged ones in particular, relate to these experiences easily so it's a good way to explore these Easter themes of new life and growth.
One of the themes central to the Easter story is betrayal and a good format for approaching it can be through circle or carpet time.  Engage pupils in a conversation about friendships and why they are so valuable. For primary aged children, encourage them to talk about how they feel when they have friends to play with and talk to; what games they like to play with them and how they feel when someone doesn't want to play their game at lunchtime; or how it feels when they fall-out?
As a teacher, you can link this to the Easter story and children could talk about how they think Jesus would have felt at different times in the story. Following this discussion, Maria one of our primary teachers, remembers getting one of her Year 2 classes to work in groups creating friendship posters in IT.
---
Creativity and Easter
There are lots of fun, secular ways you can mark Easter in primary school.
Eat hot cross buns with the kids and tallk about the history of this delicious tradition, the significance and symbolism of their ingredients and the cross on the top.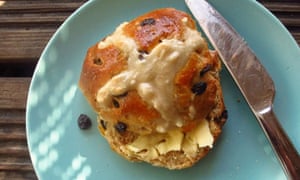 Decorating hard boiled eggs is always messy fun and is a natural follow on activity to the conversation about spring and new life.
---
You can find our other teaching tops tips and resources here.
---
Do you have any top tips for teaching Easter to primary aged children you'd like to share here with the Prospero Community?  We'd love to hear them…